NOTE from Matt: Today I'm serving up an awesome guest post from Ryan of Ryan Goes Abroad. Ryan is just days away from departing on a 3 month adventure to Columbia. To follow his adventures make sure and check out his blog and follow him on Twitter.  So without any more delay I'll turn it over to Ryan.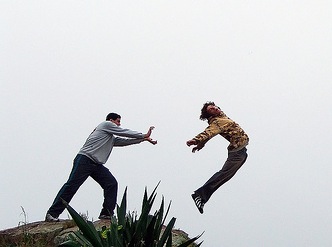 When it comes to going abroad, there is a moment at which everything you are thinking about makes a sudden move forward from the theoretical to the actual. That moment is when you set your departure date and buy the plane ticket. 
Dreams Finally Set In Motion
When you click "buy" or "purchase" on Expedia, Orbitz, Cheap Tickets, Kayak, Delta, Spirit, Southwest, or wherever, your traveling dreams are finally set in motion. You now have made a commitment with your pocketbook, and as a result, the rest of you will follow. 
Getting a confirmed departure date will work wonders for you. Seriously. It sets everything else in motion which otherwise would still be NOTHING by the simple force of inertia. 
NOTHING moves until you ACT. So ACT… Get that departure date. 
The Benefits
There are at least 3 benefits that immediately come your way when you get an actual departure date (besides the fact that you are actually going to go somewhere). 
1. Your decision to go abroad changes from an uncertain MAYBE to a definitive YES.
Instead of hemming and hawing about where you are going, how you are going, and when you are going, etc., the moment you finally purchase the ticket, your mind instantly switches gears. It changes from a pattern of considering the indefinite ("Where and when can I go?"), to believing the affirmative ("I'm going to this place at this time.") 
An interesting thing then happens: your psyche takes on an entirely different character. Instead of wishing you had the time to go abroad, you suddenly start altering your life to meet the departure date deadline. You start acting on relevant considerations: What do I now have to purchase? What arrangements do I now have to make? Who do I now need to contact? What documents do I now need to secure?
Suddenly, instead of planning your travel around your life, you begin to plan your life around your travel
Suddenly, instead of planning your travel around your life, you begin to plan your life around your travel.
2. You are enabled to move forward where you couldn't before.
With your basic itinerary intact, you can now attend to a lot of the planning that wasn't moving anywhere. For instance, you can now begin to make key contacts in your targeted country. Instead of blindly selecting from 6 billion people to contact, you now have your arrival city. 
Where are you going? Bogotá? If so, begin to look into who is in that city… Is there is a good couchsurfing community? Are there online social networks to join? Can you people who live in Bogotá and Skype with them? You can have a leg up on your trip if you hit the ground already knowing some folks there. (I am actually going to Bogotá, so talk to me for sure… ) 
You can also begin to gather other information on the city… For example, what will the temperature be like when you get there? Is it rainy season or dry season? Will you be able to get around via bus or subway? Are there major holidays or parades going on? How close are you to famous landmarks or wonders of the world? 
If you're getting shots, the medical clinic will recommend your vaccinations based on where you are intending to go. Now, instead of wondering where you might go, you actually have something to tell them. (Quick tip: Make sure to call the travel clinic at least 2 months prior to your trip!) 
All of these questions mean relatively little to you until you finally settle on a departure date and destination. What happens is that your desire morphs into an intention and your plans begin to take shape. 
3. The countdown forces you to make the leap.
Consider going abroad as like standing at the back of a diving board looking towards the front edge. Jumping off the end of the diving board is your trip abroad. But standing at the back of the diving board, you can look and look and look, but not move. 
But once you have a departure date, suddenly the diving board begins to move you forward like a moving sidewalk. Now, you know you are headed for the edge, and you know you are going to jump. You're going to have to. It's only a matter of time. 
This is the experience of buying that plane ticket. 
The departure date is now moving towards you, and everything will straighten itself out in the process.
So…
Setting that departure date and buying that plane ticket is like signing a contract with yourself. You've signed on the dotted line, you've committed, so it's going to happen. 
So, tell me… when is your departure date? 
---
About the author: Ryan decided to go to Colombia on January 5th, 2011. You can follow his travels and his attempts to learn Spanish–holler at him on twitter @ryangoesabroad. 
Photo: adapted from Reyes
If you enjoyed this article be sure to sign up for the 1 Year Sabbatical newsletter over in the sidebar, as well as take a look at the RSS Feed.